Acerca de Accelleran
5G Privada, desde hoy
Si estás interesado en Accelleran y nuestras soluciones, no dudes en ponerte en contacto con nosotros. Nuestro equipo está listo para responder todas tus preguntas y brindarte las soluciones que necesitas. ¡Contáctanos hoy mismo para descubrir lo que podemos hacer por ti!
Síguenos en Linkedin
Contáctanos
La sede principal de Accelleran se encuentra en Amberes, Bélgica. Desde su fundación en 2013, Accelleran ha sido pionero en las Redes de Acceso Radio Abiertas.
Accelleran construye redes 5G privadas que aportan inteligencia y automatización a la RAN. La plataforma dRAX™ de Accelleran (RIC, SMO, SDK xApp/rApp y CU) es tan fácil de instalar como el WiFi, aprovechando el ecosistema de Accelleran de socios DU y RU. Nuestra solución es genuinamente nativa del cloud, proporcionando una solución 5G privada confiable y escalable, acorde con los estándares de Open RAN.
Solución 5G Privada de Accelleran
Accelleran ofrece una solución completamente integrada que unifica toda la estructura de la red – desde RU-DU-CU hasta RIC-SMO, brindando una experiencia 5G privada impecable. Nuestras propuestas están firmemente arraigadas en la filosofía de Open RAN, aprovechando sus ventajas inherentes para redes privadas. Proporcionamos software CU-RIC-SMO, ingeniosamente diseñado para operar en una plataforma de servidor COTS, y lo complementamos con soluciones RU-DU pre-integradas de nuestros socios estratégicos. Esta combinación única de tecnologías garantiza una solución 5G privada totalmente lista para usar. Además, con nuestro soporte postventa dedicado, somos su principal punto de contacto para todas sus necesidades de red.
Nuestra solución ofrece una interfaz de usuario SMO intuitiva, que sirve como panel de control de red en tiempo real. Visualiza dinámicamente tu red, permitiendo monitoreo y ajustes en tiempo real. Además, facilita la implementación de xApps y rApps, favoreciendo la automatización y optimización.
Con Accelleran, administra tu red 5G privada con agilidad, eficiencia y control sin precedentes.
Controlador Inteligente RAN de Accelleran: Automatización RAN
El dRAX-RIC de Accelleran es una opción confiable para operadores e integradores que buscan una plataforma lista para producción para aprovechar el poder de los datos RAN en tiempo real y los mecanismos de control abiertos. Su versatilidad permite a los usuarios diseñar e integrar sin problemas sus xApps basadas en IA, fortaleciendo así significativamente la inteligencia y automatización RAN.
Pensando en la comodidad del usuario, dRAX-RIC viene con un código base de xApps listo para usar y APIs completamente documentadas. Esta accesibilidad lo hace atractivo para desarrolladores externos, permitiéndoles no solo crear rápidamente sus xApps únicas, sino también integrar la inteligencia y control RAN en su flujo de trabajo específico.
Un entorno de telecomunicaciones avanzado, potenciado por capacidades de IA sofisticadas y una automatización refinada. Descarga nuestra hoja técnica detallada hoy y da un paso hacia el futuro de la innovación y el control RAN.
Póngase en contacto hoy. Nuestro equipo tiene la capacidad de comunicarse en inglés, español, francés y más.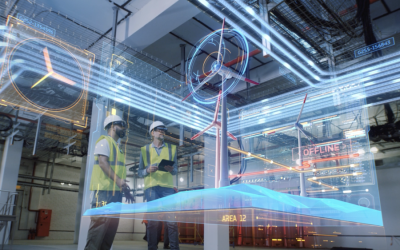 Today marks an exciting moment as the 5G PORTAL in Grimsby springs to life. The 5G 'living lab' not only symbolises the digital strides in offshore wind but also accentuates the sustainable future we're driving towards, with the integration of high-speed communications. With fifteen 5G radio transmitters strategically positioned across five sites, including four wind turbines, we're merging green energy with next-gen technology.
Spanning the port of Grimsby and the Lynn and Inner Dowsing wind farm, the 5G PORTAL is set to usher in cutting-edge solutions, reinforcing the UK's stature as a forerunner in the global offshore wind sector.
read more
Want to know more? Contact us!
Would you like to know more about our products, solutions and plan a video call with us? Let us know and we will shortly be in touch with you.