Accelleran | Open Private 5G, Today
Accelleran presents an Open-RAN aligned, turnkey Private 5G solution, expertly tailored for your unique needs. With installation as straightforward as Wi-Fi and a dynamic ecosystem of Radio Unit (O-RU) partners, we stand as your singular contact for a peak performance and scalable Private 5G network solution.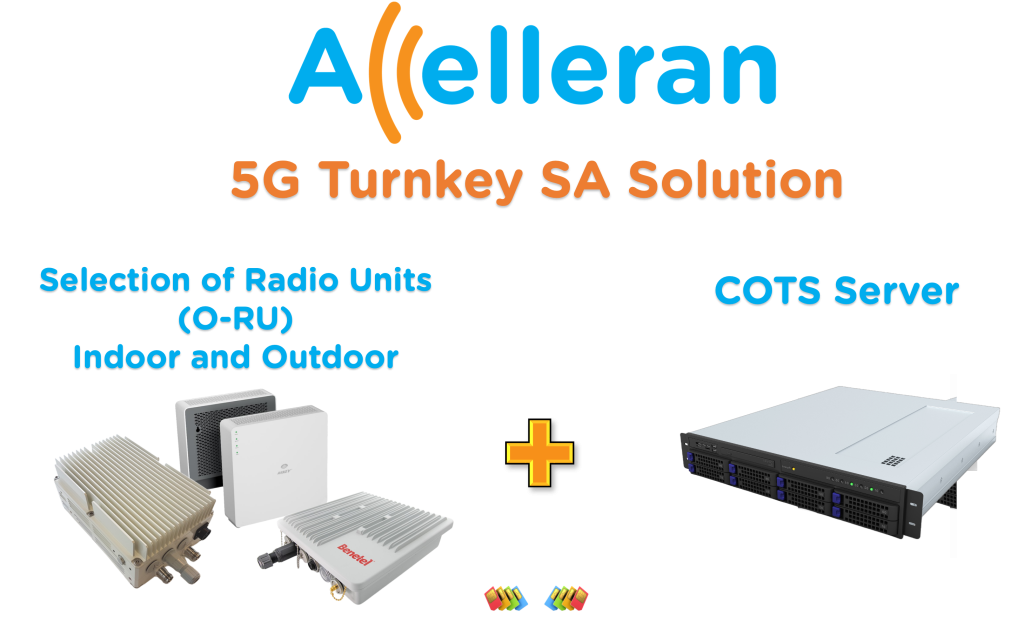 Download our Private 5G Datasheet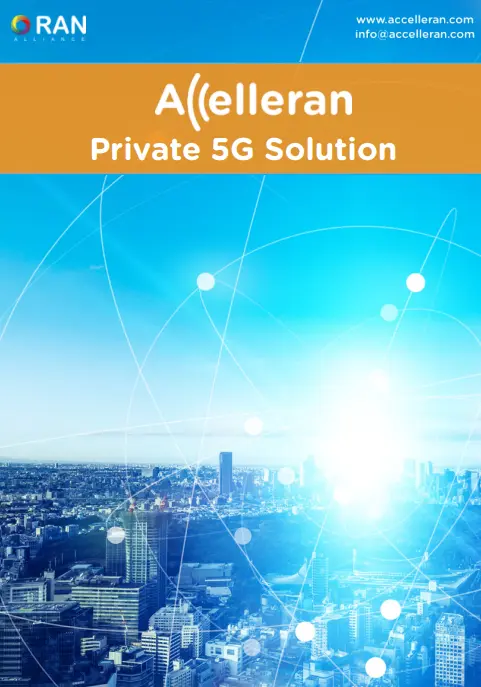 Embrace Private 5G for independence, superior data privacy, and unparalleled performance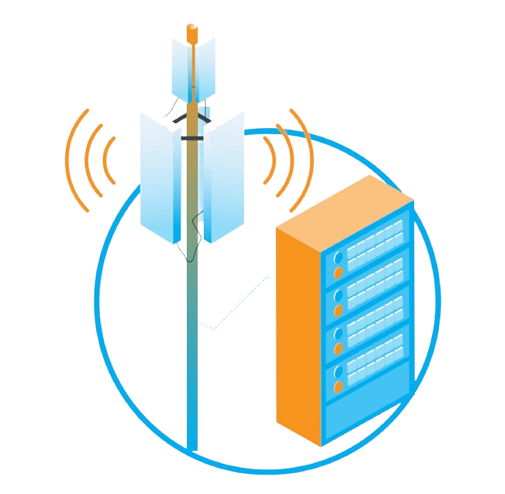 Low Latency
Experience seamless live streaming, efficient robotic operations, and real-time autonomous vehicle control with minimal signal delay.
Speed
Transfer large volumes of data or share files across departments at remarkable speeds.
Capacity
 Seamlessly manage hundreds or thousands of devices, with no dependence on costly commercial network contracts.

IoT Connectivity and Control
With private 5G networks, drones and other IoT devices can achieve faster, more reliable, and secure connections, ensuring seamless device-to-device communication.

Real-time Infrastructure Surveillance
Private 5G allows for superfast data streaming from infrastructure sensors, facilitating real-time monitoring and predictive maintenance.

Accelerating Industry 4.0
Private 5G networks empower industrial automation by offering low-latency communication between machinery, improving precision, operational efficiency, and enabling real-time data analytics.
Accelleran Use Case: Autonomous Transport, 5G Logistics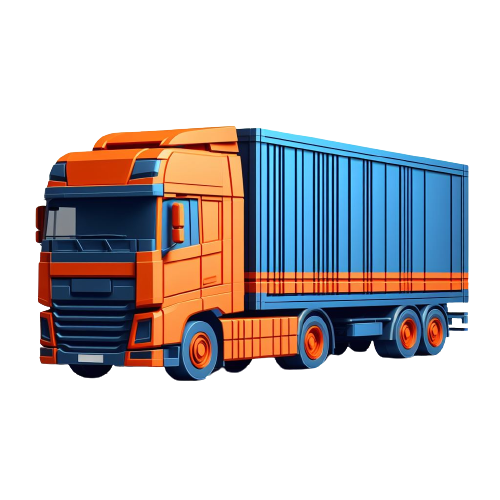 Real World Deployments
Accelleran and partners have ushered in a 5G-driven revolution at the BMW Group Dingolfing plant. Central to this innovation is the AutoTrailer by Stäubli WFT, navigating autonomously within a vast 25,000 square metres private 5G network. Replacing traditional vehicles, it ensures shipments are streamlined and workflows optimised.
This 5G infrastructure empowers employees to communicate with autonomous vehicles using mobile devices. With data fed into the cloud, real-time performance monitoring is achieved, enhancing efficiency and safety.
Built on OpenRAN foundations, this system promises to meet rigorous industrial standards.
Download our Private 5G Datasheet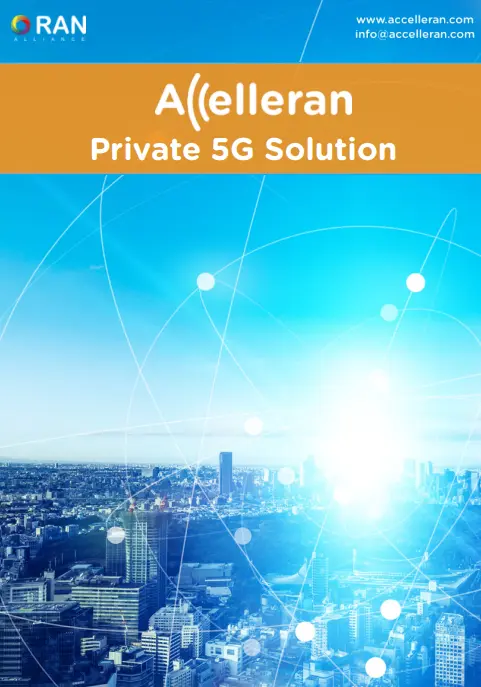 Series: The Transformative Power of Private 5G Networks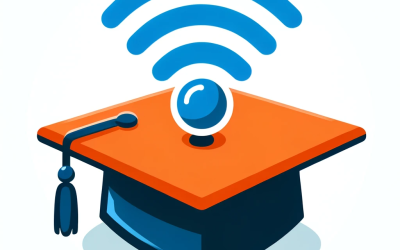 Accelleran's insightful article unveils the revolutionary impact of Private 5G Networks in the educational sector. Focusing on how these networks enhance learning experiences with high-speed data, robust security, and IoT integration, the piece highlights Accelleran's role in driving educational innovation with Open-RAN aligned Private 5G solutions. Perfect for educators, technologists, and policy makers, this article is a must-read for anyone interested in the future of education technology.
read more
Accelleran Use Case: The 5G 'Living Lab'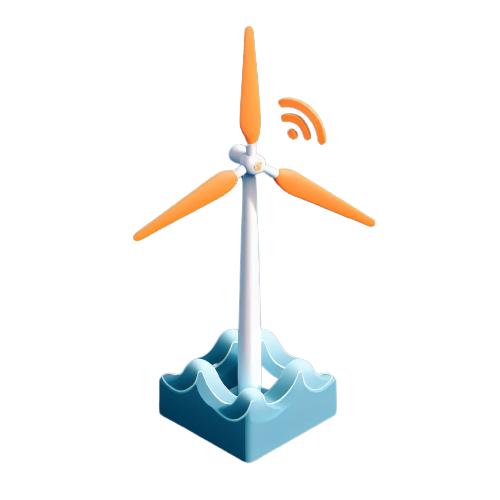 Real World Deployments
Accelleran, in collaboration with our partners, has strategically positioned fifteen 5G radio transmitters across five distinct locations, including on four wind turbines. This joint effort culminated in the establishment of an innovative 5G Testbed at Grimsby Port and the Lynn and Inner Dowsing wind farm.
These transmitters are complemented by a solar-powered 5G buoy, designed by JET Connectivity, forming a comprehensive private 5G network. This initiative effortlessly merges green energy solutions with state-of-the-art technology.
Launched in October 2023, this £2.8M project is set to fast-track advancements in digital technologies essential for offshore wind energy production.
Open RAN Interoperable Radio Units (ORU)
These radio units have beenintegrated into our Open-RAN aligned dRAX solution, hence the term O-RU. By embracing the open architecture, we extend the promise of customisation, interoperability, and future-proof solutions. These O-RUs form a pivotal component of our offering, ensuring seamless connectivity while bringing the flexibility and efficiency of Open RAN to the heart of your 5G network. You can read more about our Radio Units in detail here.
RU

Benetel RAN 550

Benetal RAN 650

Cablefree 5G

Node-H T&W /

Askey 5G

Scenario

Indoor 

Outdoor 

Indoor/Outdoor

Indoor

Frequency band

 N78 / N79

N78 / N77U

N39 / N77 / N78

N78

Power (at antenna port)

250mW/24dBm

5W/37dBm

Several up to 20W/43dBm

250mW/24dBm

HW MIMO (SW Support)

4T4R (2T1R)

4T4R (21TR)

2T2R (4T4R)

2T2R

Architecture

Option 7.2

Option 7.2

Option 7.2

Option 2

Other Information

40, 100MHz

40, 100MHz

10 to 100MHz

10 to 100MHz
Accelleran presents a fully integrated solution that unifies the entire network stack – from RU-DU-CU to RIC-SMO, offering a seamless Private 5G experience. Our offerings are firmly grounded in the ethos of Open RAN, harnessing its inherent benefits for private networks.
We deliver CU-RIC-SMO software, adeptly engineered to run on a COTS server platform, and complement it with pre-integrated RU-DU solutions from our strategic partners. This unique blend of technologies ensures you receive a fully turnkey Private 5G solution. Plus, with our dedicated post-sales support, we are your principal point of contact for all your network needs.
Our solution equips you with an intuitive SMO GUI, acting as your real-time network control panel. It dynamically visualises your network, enabling real-time monitoring and adjustments. Further, it simplifies the roll-out of xApps and rApps, fostering automation and optimisation.
With Accelleran, manage your Private 5G network with unparalleled agility, efficiency, and control. 
What can Private 5G Unleash?: Accelleran's Private 5G solution is a key to unlock a world of possibilities. From powering next-gen gadgets like smartphones and tablets to steering Automated Guided Vehicles, maintaining vigilant security systems, and activating various IoT sensors, Private 5G is the tech ally you need. Transform your business, whether it's a cutting-edge industrial complex, a bustling innovation hub, or a progressive educational institution with our seamless Private 5G network.
Why choose Private 5G over WiFi?: Private 5G outperforms Wi-Fi in every critical aspect. Experience reliable, glitch-free connectivity that supports a massive array of high-speed devices. With unbeatable security and seamless mobility across vast areas, Private 5G is your weapon of choice for advanced wireless connectivity. However, Private 5G can be used alongside Wi-Fi to bolster connection quality and resolve potential areas of congestion.
Licensing – Is it a hurdle?: Private networks and public telecom operators operate on separate tracks. At Accelleran, we've got you covered with support for frequency bands commonly used in Europe (like N77, N78) and beyond. Got queries? Get in touch.
Ease of Setup – Is it complicated?: We've made deploying Accelleran Private 5G as straightforward as setting up Wi-Fi. Wave goodbye to technical complexities.
The Core – Is compatibility an issue?: Accelleran is core agnostic and our solution is interoperable with many core vendors.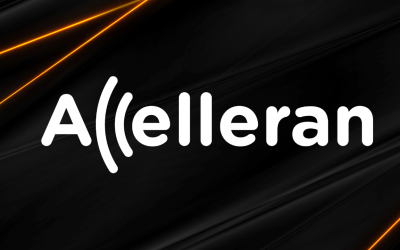 Private 5G: Unlocking the Power of Tailored connectivity.
read more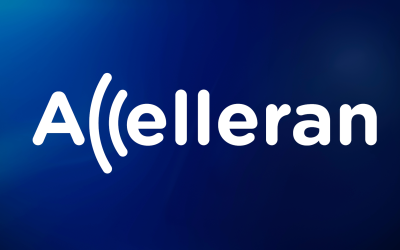 Open RAN uses standardised, interoperable components from multiple vendors, providing network operators with more flexibility, lower costs and greater innovation when building and maintaining wireless networks.
read more