Igniting Innovation in the Open RAN Ecosystem: Accelleran's Pioneering Journey with Digital Catapult and Vodafone
Published: 10th of July, 2023
Our journey in the realm of Open Radio Access Network (Open RAN) has been marked by constant innovation, collaboration, and technological advancement. Recently, we have taken significant strides forward through our collaboration with Digital Catapult and Vodafone, bringing about a unique opportunity for driving progress in the Open RAN field.
It all began with a challenge posed by Digital Catapult, aiming to push the boundaries of energy efficiency, quality of service, and coverage in the network by leveraging the prowess of our RAN Intelligent Controller (RIC). This endeavour created a platform for innovators to develop cutting-edge xApps using our Software Development Kit (SDK), focusing on transforming network energy consumption and efficiency.
Renowned organisations such as B-Yond, Chilton Computing, Flying River, King's College London, Net AI, University of York, Ultracell Networks, and Zizo® stepped up to this challenge, demonstrating the wealth of innovation potential within the Open RAN ecosystem. With their ingenious applications of AI/ML, data integration, and innovative algorithms, these companies successfully crafted early-stage solutions on our RIC platform.
These pioneering solutions go beyond the realm of theory and promise to revolutionise the way we approach network energy efficiency, setting the stage for unprecedented advancements in RAN automation, intelligence, and optimisation. The success of this initiative underlines the dynamic, transformative potential of Machine Learning and our RIC, playing a key role in defining the future trajectory of network efficiency and sustainability.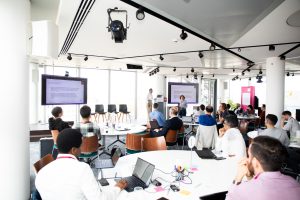 During the event, our CSO, Arnaud Polster, joined a panel discussion shedding light on the innovation potential of AI/ML in Open RAN. He emphasised the significance of RIC use cases for ecosystem readiness and highlighted the critical role of Open RAN in fostering supply chain diversification and enhancing network energy efficiency.
This collaborative venture with Digital Catapult and Vodafone has been a stepping stone to further breakthroughs in the Open RAN field. We extend our deepest gratitude to both organisations for their spirit of partnership. As we continue to pioneer advances in Open RAN, we are energised by the knowledge that this shared journey brings us closer to a future where the full potential of Open RAN is realised and harnessed.
At Accelleran, our mission is inherently aligned with Open RAN. We are committed to working with innovative partners to unlock the full potential of our RIC SDK for the creation of xApps and rApps. These initiatives not only redefine RAN efficiency and sustainability but also set the stage for the evolution of the telecommunications industry.
We welcome innovators and pioneers in the field to join us on this journey towards a future defined by groundbreaking advancements in RAN automation, intelligence, and optimisation.
Accelleran RAN Intelligent Controller
At Accelleran, we're not just at the forefront of 5G technology; we're actively shaping its future. Our RAN Intelligent Controller, equipped with a robust SDK, offers the perfect platform for developing pioneering xApps and rApps. We understand the limitless possibilities that these applications can bring, and we've made it easier than ever for innovators to leverage our RIC for their unique solutions.
Eager to dive into the world of xApps and rApps development with a state-of-the-art RIC at your side?